The MAGIC Spell Studios Facility @ RIT
A multi-disciplinary and entrepreneurial approach to digital media education, research, production
The RIT Center for Media, Arts, Games, Interaction & Creativity (MAGIC) is a university wide research center and production studio focused on exploring the cutting edge of interactive digital media. It is available for anyone in the RIT community, regardless of academic or institutional affiliation, as well as numerous partners and community collaborators. The MAGIC Center is designed to bridge the gap between research and prototyping, and the ability to bring industry polish and commercial scale and support to experimental projects. This allows our work to have wider and greater impact, and to explore feasibility and reaction from global audiences.
To realize this vision, MAGIC is composed of both a research laboratory (the MAGIC Lab, in which many other labs and working groups are housed or affiliated), and a production studio, (MAGIC Spell Studios, LLC, which leverages our discoveries in ways that more broadly disseminate our work to peers and to the public at large). The overall purpose of MAGIC is to engage the campus, the community, and the region in research, development, and entrepreneurial efforts involving digital media. As a part of this mission, the university has engaged a public/private partnership with New York State as well as numerous other partners to create a state-of-the-art education, research and production facility to further these support these efforts. For more information, please contact the MAGIC Center, and Director Andrew Phelps.
Facilities Concepts & Vision
The MAGIC Spell Studios flagship facility is a multi-use, multi-purpose, large scale facility that serves several different needs for the studio and thus the university, the Rochester community and beyond. There are five interwoven themes that form, at their intersection, the core use-case for the facility:

Facilities Features & Capabilities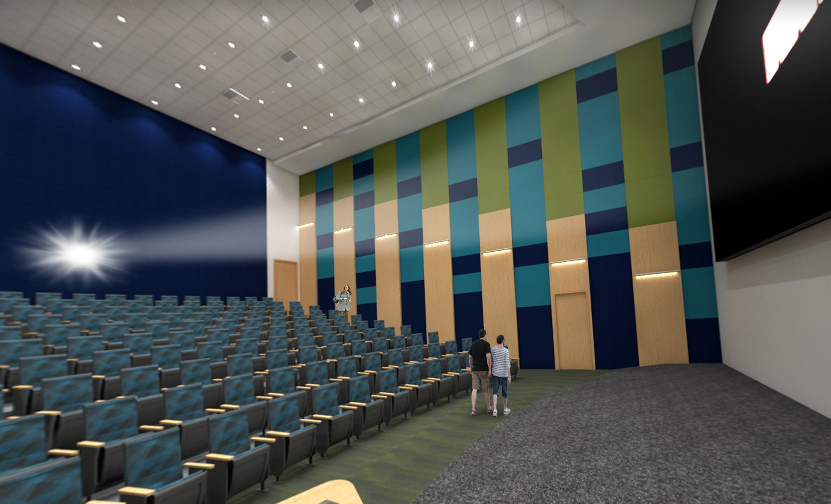 MAGIC Movie Theatre
A 180-seat theater with projection booth and complete cinema-quality audio/video system to provide a showcase for academic and commercial productions as well as accommodate film showings, computer gaming events, multiple types of media presentations and guest speakers. See a model of this space in 360 view.
MAGIC Spell Studios Innovation Suite
An academic and commercial startup environment that uniquely combines open-office student work space with high-end computing capability and academic and commercial offices in support of MAGIC's entrepreneurial projects in film, animation, game design and development, and digital media. MAGIC Affiliates from IGM and SOFA will be housed here along with the core MAGIC staff to provide a community of mentorship and collaboration with our students and partners.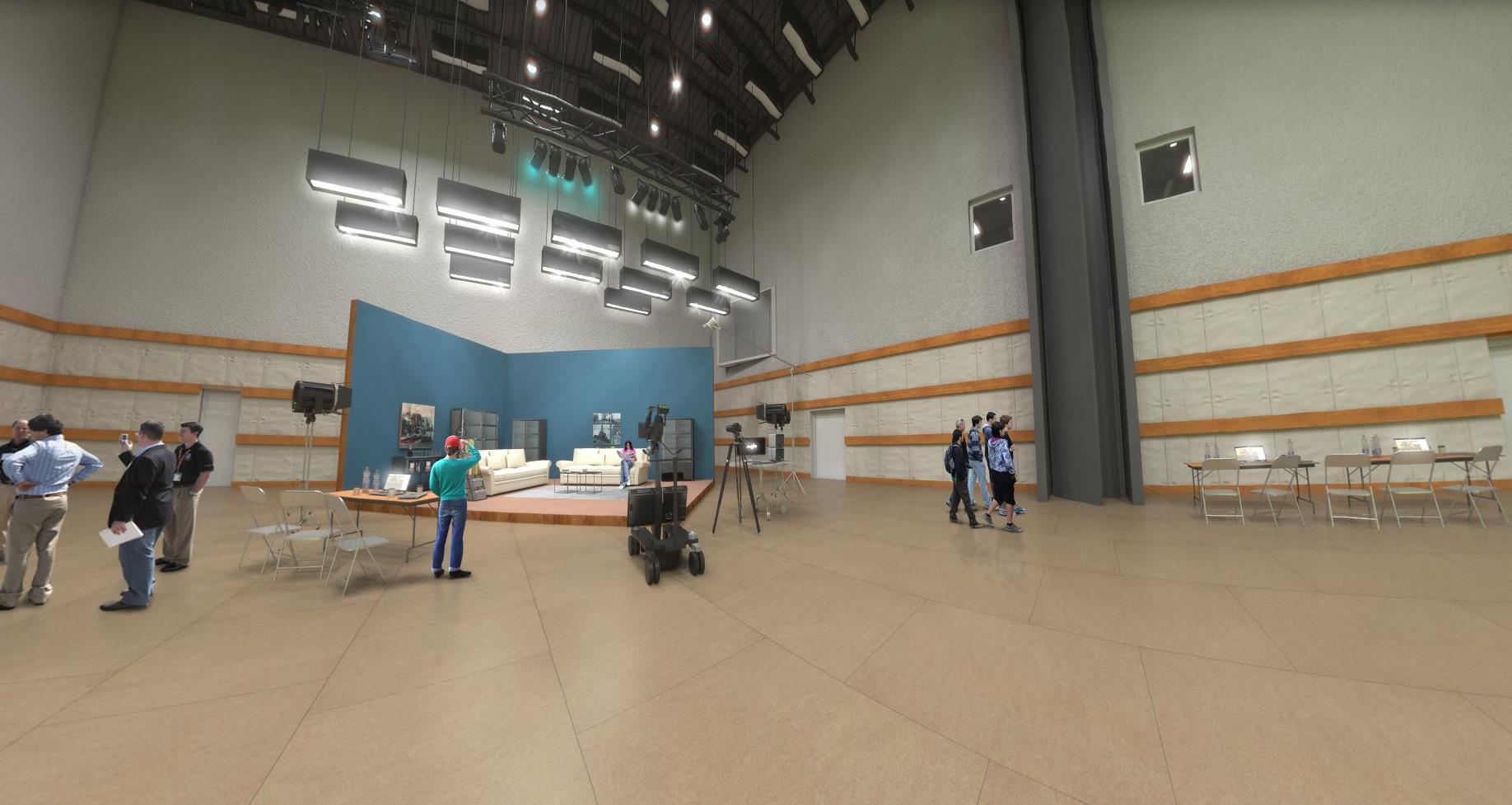 Sound Stage
The new facility will feature a 7,000 square foot professional sound stage that will meet the requirements for the New York state film tax credit, as well as providing resources and space to student film makers. The sound stage is accessible via loading dock, and has storage, control room, and green room facilities in close proximity. Additionally, areas of the stage have been equipped for use with green screen and motion capture capabilities. See a model of this space in 360 view.
Collaborative Partner Suite
This area will support next-tier product development and collaborative work with external corporate partners, as well as internal start-ups that are growing beyond the capabilities of the innovation suite. This space will allow a mixture of private, controlled areas for full-time use to support varying projects with different technological, staffing, and support needs.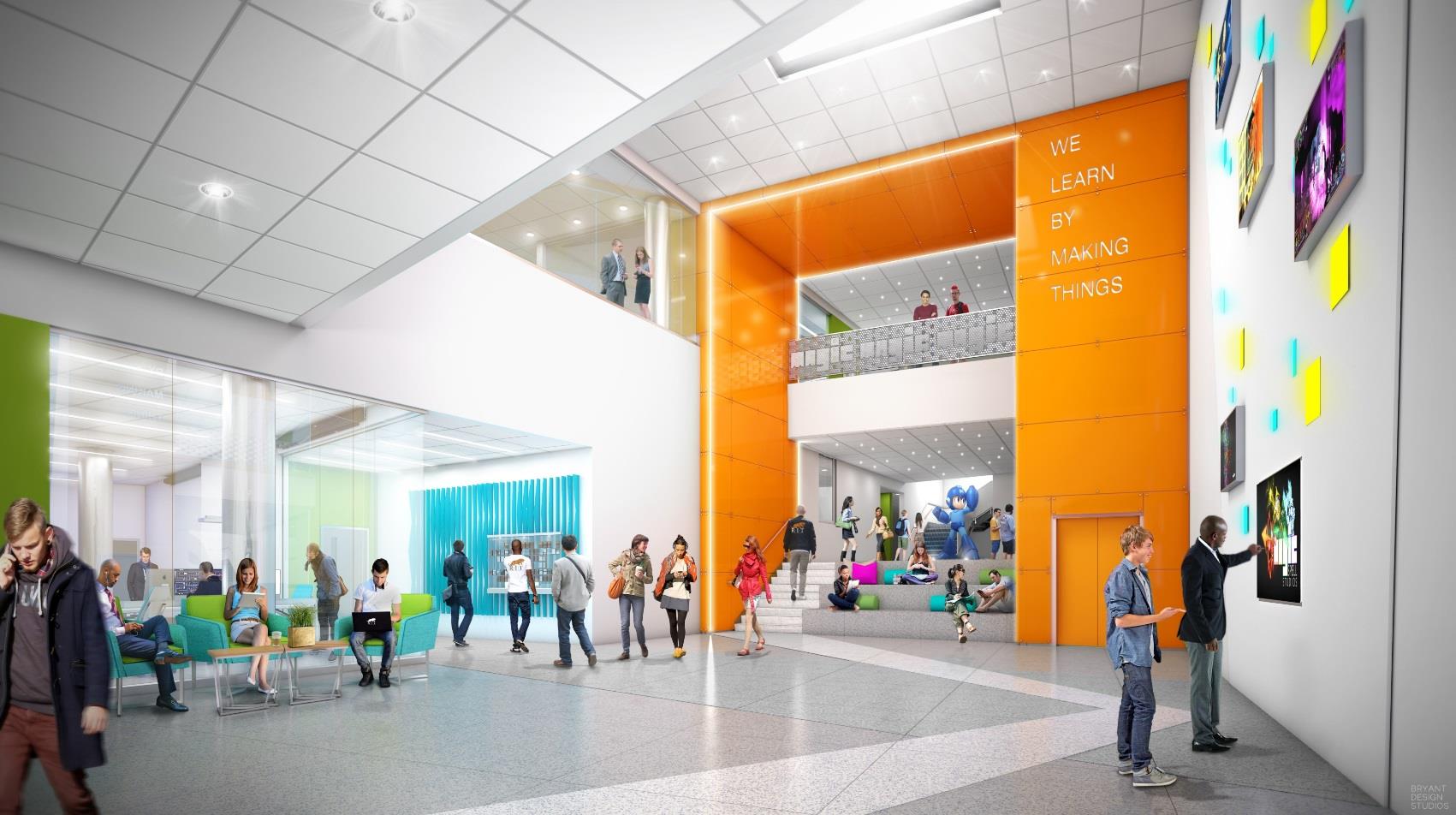 The MAGIC Spell Studios Lobby
The media-rich and central hub for MAGIC Spell Studios showcasing the projects, products and work of magic makers. This space will act as both a meeting space before and after events, a casual low-key working environment, and a meeting-zone for participants across disciplines.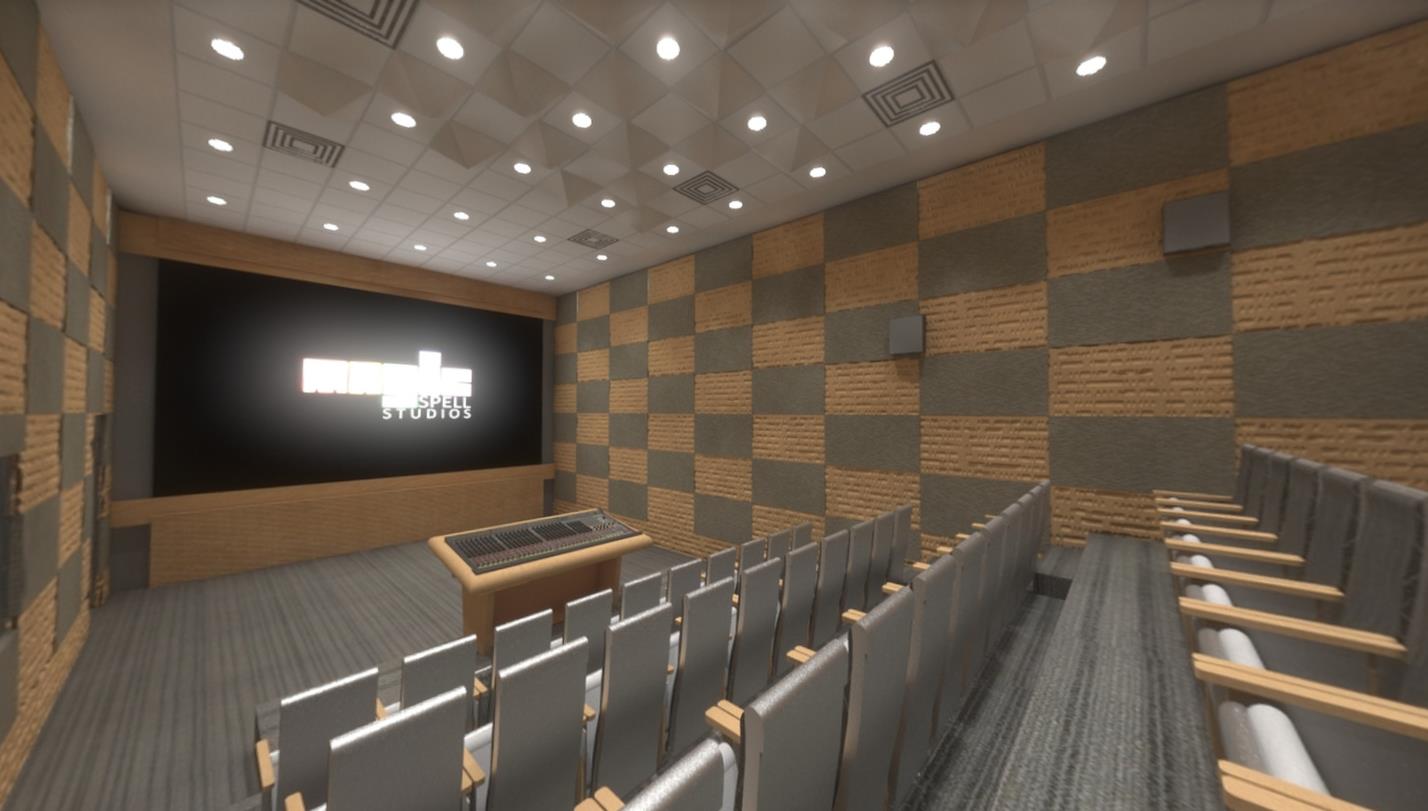 Sound Mixing Facilities
Tiered 40-seat audio-to-video mixing suite with mixing board, professional theater-quality audio systems and professional acoustics based on industry, Dolby® and THX standards. An attached voice over/isolation booth will enhance programs for film, animation and game design. See a model of this space in 360 view.
Color Correction Room
Tiered 50-seat color correction room will also double as a screening room complementing the various educational programs in this specialty field.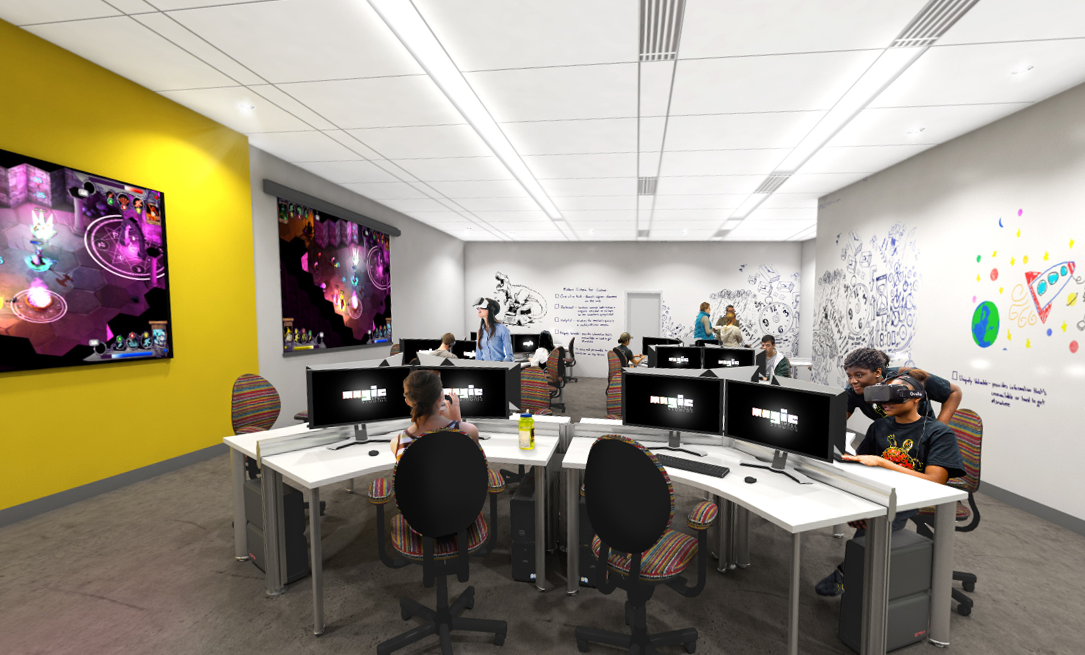 Computer Gaming Labs (3)
Designed around core principles of constructionist educational models (ie learn by doing), these labs will facilitate education, hands-on interaction, and support activities in game design and provide a mix of environments that support advanced work in interactive game development and deployment, as well as support commercial and academic activities, research and experimental work, hackathons, gamejams, and more. See a model of this space in 360 view.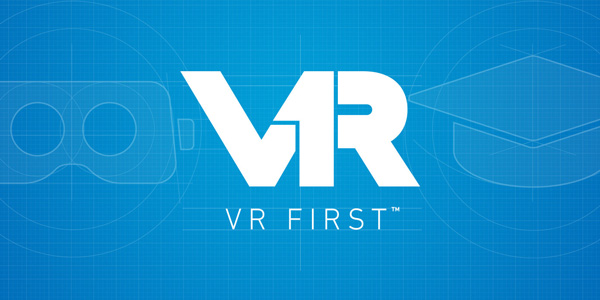 VR/AR Laboratory
The new facility will feature an updated and expanded presence of the MAGIC VR/AR Lab, which serves the entire campus as a place for exploration and experimentation with VR and AR technologies, platforms, and hardware. A part of this effort is our continued work as a part of the VR First initiative.
Demo Lounge
This area will serve as a demo room, client-briefing area, and showcase. It will include a media wall, theater sound and lighting controls, VR and AR capability, and acts as a place to work with clients, partners, guests, and dignitaries to showcase the digital media capabilities of the studio and the university.
Animation Classroom and Studio Space
This space will support the creation of academic and commercial work in stop-motion, 2D and 3D animation, with a mix of activities ranging from coursework and program offerings, workshops, projects, etc.
Research Computing Facility and Control Room
One of the most critical spaces in the whole endeavor, this space is the 'glue' that connects the various facilities together as well as connects the studio to the larger campus and outside world. Unlike many backroom IT solutions, the studio is transparent here as well - the space is centrally located, and viewable in ways to help the educational and comprehensive mission of the facilty. The space serves as the conduit for media production and dissemination across the entire facility, leveraging solutions from Cisco and Dell as core partners in this effort.